Blind Auditions Premieres
Season 1, Episode 1

First Aired
April 26, 2011
Episode Guide
previous
"None"
next
"Blind Auditions, Round 2"
Blind Auditions Premieres is one of the first of two Blind Audition taped episodes was broadcast on April 26, 2011.
Summary
Host Carson Daly sets the stage: tonight contestants from across the country vie for a chance to be teamed with one of music's superstars and a shot at becoming America's next great singing star. Before the auditions begin, the quartet of celebrity coaches – Christina Aguilera, Cee Lo Green, Adam Levine, and Blake Shelton – have a treat for the audience: an all-star version of "Crazy." The format is simple: when singers take the stage, all four coaches have their backs to them. Based solely on the quality of the contestant's voice, a coach will either hit his red button and be spun around to see the singer whom he now wants on his team – or the coach will sit tight, indicating he doesn't want the singer. Each coach will ultimately field a team of eight singers, shaping and mentoring them to bring out their true potential. First up, Tarralyn Ramsey sings a stirring version "Breathe." Christina and Cee Lo both want Tarralyn! It's a tough choice, but she ultimately chooses Christina. Next, Patrick Thomas delivers a Tim McGraw cover, "Live Like You Were Dying." Adam and Cee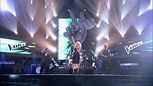 Lo turn around, but it's country superstar Blake Shelton who Patrick feels can best bring out his potential. Jared Blake sings "Good Girls Gone Bad." His performance is strong, but none of the coaches turn around. Next up, Vicci Martinez ignites the crowd with "Rolling in the Deep." Vicci's got a high-class problem: choosing between Cee Lo and Christina as her coach. She goes with Cee Lo. Next up, the newlyweds known as Elenowen are introduced. A nervous Sonia Rao takes the stage. She gives her best, but ultimately, none of the coaches are moved enough to turn around. Elenowen delivers a beautiful duet, "Falling Slowly." Blake and Cee Lo are impressed enough by the couple to turn around. After a few questions about how they'd be handled, the couple decides to team up with Blake. Next to the stage: former American Idol contestant Frenchie Davis, who impresses the house with her take on "I Kissed a Girl." Florida native Kelsey Rey is introduced and promptly nails her version of "American Boy." Adam, Cee Lo, and Christina all turn their chairs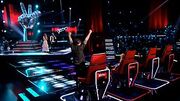 around to have a look. Florida native Kelsey Rey is introduced and promptly nails her version of "American Boy." Adam, Cee Lo, and Christina all turn their chairs around to have a look. Kelsey will be under the careful guidance of Cee Lo Green. An unlikely performer takes the stage. He's Jeff Jenkins and he quickly wins over the crowd and coaches. Jeff's pursued by all four coaches! After a few questions, he makes a touch choice: he wants to team up with Adam Levine. Rebecca Loebe turns to the Nirvana classic "Come as You Are" for her audition. Christina and Adam both turn their chairs. After a few difficult moments of deliberation, Rebecca announces she's going with Adam. Next, 56-year-old Joann Rizzo gives it her utmost with the classic "I Say a Little Prayer." But she can't get a coach to hit the button. 16-year-old Xenia is nervous as she takes the stage, but quickly finds her groove, delivering a sweet version of The Script's "Breakeven." Xenia's recruited by both Cee Lo and Blake; it's Blake whom she finally decides to hitch her wagon to. Next, a mystery act: a loveable nerd with an impressive Afro named The Austin. He's in his element, belting out an impressive "Just the Way You Are." Adam and Cee Lo spin around; after some deliberation, The chooses Cee Lo.Javier Colon is the next to step into the spotlight, and he brings down the house with a killer version of Cyndi Lauper's "Time After Time." The coaches can't resist his voice – all four hit their buttons. The father of two has a tough choice to make. Ultimately, he picks Adam Levine. There'll be just one more audition tonight: 41-year-old Beverly McClellan, who delivers a powerful "Piece of My Heart." The veteran singer's dream comes true: she'll be working with Christina as her coach. The first round of auditions is over; each coach has filled three of his eight roster spots. By the end of next Tuesday's Blind Auditions, Round 2, their teams will be complete and ready to compete.
List of contestants
Key
Coach presses his or her button

 

Contestant eliminated with no coach pressing his or her button

 

Contestant defaulted to this coach's team

 

Contestant elected to join this coach's team
Order
Contestant
Song
Coach's and contestant's choices[1]
Adam
Cee Lo
Christina
Blake
1
Tarralyn Ramsey

31, from Jacksonville, FL

"Breathe"

—

—

2
Patrick Thomas

20, from Nashville, TN

"Live Like You Were Dying"

—

3
Jared Blake

32, from Star City, AR

"Good Girls Go Bad"

—

—

—

—

4
Vicci Martinez

26, from Tacoma, WA

"Rolling in the Deep"

—

—

5
Sonia Rao

24, from Freehold Township, NJ

"If I Ain't Got You"

—

—

—

—
Gallery
References