Franchell "Frenchie" Davis (born May 7, 1979) is an American R&B singer and actress who finished in 5th place on season 1 of the Voice. Her mentor was Christina Aguilera.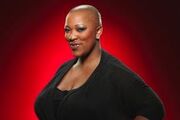 American Idol
Frenchie had made it to the top 32 on season 2 of American Idol in 2003 but was disqualified due to inappropriate pictures of herself appearing on a website called the Smoking Gun.
The Voice
Frenchie first auditioned with the song "I Kissed a Girl" by Katy Perry. Christina was the only one to pick her so she was placed on Team Christina. In The Battle Rounds Frenchie was paired against Tarralyn Ramsey and sang "Single Ladies (Put a Ring on it)." Tarralyn was eliminated and Frenchie moved on to The Live Shows. The first song Frenchie sang at The Live Shows was "When Love Takes Over" and was saved by Christina. Next, she performed "Like a Prayer" and was saved by Christina. She was ranked "50%" with Beverly McClellan and Beverly also got a 50, but Beverley received more votes, she even got the fourth place runner-up!