Gwen Stefani

Birth name:
Gwen Renée Stefani
Sex:
Female
Birthday:
October 3, 1969 (age 50)
Birth place:
Fullerton, California
Genres:
pop, dance-pop, new wave, R&B, hip-hop
Occupation:
Musician, songwriter, recording artist
Instruments:
Vocals
Labels:
Interscope
Associated acts:
Carter Rubin
Highest Ranking Artist:
Jeffery Austin (4th place)
Seasons:
7, 9, 12, 17,19
Gwen Renee Stefani (born October 3, 1969) is an American singer-songwriter, actress, and fashion designer who first gained notice as the lead singer of the alternative rock band No Doubt and also has had success as a solo artist. She was a coach on The Voice in Seasons 7, 9, 12, 17, and 19.
Season 7
Gwen's First Coach on Season 7
Season 9
Gwen's First Artist ever in the Finale with Jeffery Austin
Season 12
Gwen is Returning Coach for Season 12
Season 17
Gwen is Returning to Coach for Season 17 replacing Adam Levine
Season 19
Gwen's is winning Stefani's First -Time Coach with Carter Rubin
Artists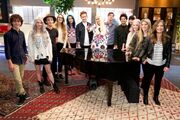 Both Team Gwens were mainly alternative artists, as she looked for artists that already had a cemented identity.
Highest-Ranking Artists