Juliet Simms
| | |
| --- | --- |
| CHAIRS TURNED | Adam, CeeLo, Christina |
SONGS SUNG
"Oh! Darling"
"Stay with Me"
"Roxanne"
"Cryin'"
"Torn"
"It's a Man's Man's Man's World"
"Crazy"
"Born to Be Wild"
"Free Bird"
"With a Little Help from My Friends"
Juliet Nicole Simms is an American singer/songwriter, and was the vocalist, guitarist, and songwriter for the American rock band Automatic Loveletter. She was the runner-up on the second season of the American reality talent show The Voice. Since being on The Voice she is now making music under her own name instead of Automatic Loveletter.
Early life
Simms was born in San Francisco, California, United States. When she was about 11 years old she moved from California to Tampa, Florida, United States—where her father was relocated for work. In Florida she learned to play the guitar from her brother, Tommy Simms. She began writing songs at the age of 14.
The Voice (2012)
Simms was a contestant on the 2012 season of reality television show The Voice. She sang the Beatles' "Oh! Darling" for her blind audition and chose to be a member of Team Cee Lo. Simms advanced to the live rounds after defeating Sarah Golden in a duet. In her first live show, she performed "Roxanne" by The Police, which the judges/coaches enjoyed.
During the quarter-finals, Simms covered "Cryin'" by Aerosmith. She was the only female contestant to advance onto the finals, edging out Jamar Rogers, after covering "It's A Man's Man's Man's World". Simms' cover of "It's A Man's Man's Man's World" reached #70 and also attained positions in three other charts on Billboard.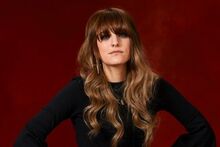 For the finale, Simms sang Lynyrd Skynyrd's "Free Bird" and placed second behind Jermaine Paul.
Post-The Voice
Shortly after finishing The Voice, Simms was signed by Cee Lo Green, her coach on the show. Her debut single "Wild Child" was released on December 11, 2012, followed by a music video in April 2013, for which Green is an executive producer. An album was scheduled for release in 2013, but ultimately was not released after she left the label. Simms completed a US tour with Secondhand Serenade and Veronica Ballestrini during March and April 2013.
On January 27th, 2015, Simms released an EP entitled "All or Nothing", published by Ju Ju Productions Inc. and funded byPledgeMusic. She released a music video for the EP's fourth track, End of the World. Her boyfriend, Andy Biersack, was featured on the following track, Not Broken Yet. To promote the EP, Simms was on every date of the 2015 Warped Tour, playing the Journeys Right Foot stage. She was upgraded to the Main Stage on multiple dates of the tour. While on Warped Tour, Simms was a part of TEI Workshops, offering guidance to fans on many things, such as self-esteem issues and tips on how to work the music industry.