Melanie Martinez

General Information
Name
Melanie Martinez
Gender
Female
Songs
Chairs Turned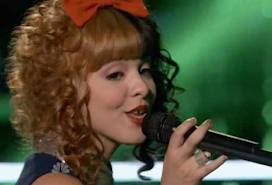 Melanie Martinez
was a contestant on Season 3 of
The Voice
. She made the Lives on
Team Adam
, but was eliminated in the Top 6 round. After her elimination, she released a full-length album and several music videos. With her recent popularity, she is widely known as the biggest star to ever come out of The Voice US.
Melanie can be identified by her unique, breathy voice and by the two toned pattern in her bangs. After years of success, she was accuse of rape by a former friend, hurting her career. Currently, Melanie seems to be taking a break from the public. However, it seems she does have intentions to come back eventually.
is a singer with an amazing and unique quality of voice, best described as ethereal, breathy, even magical, in her own brand of indie sound. She is recognized by her signature two tone bangs and a gap in her teeth. She auditioned on the Voice with an alternative version of "Toxic", during which she played the tambourine with her feet, getting her a spot on Team Adam. In the battles she sang "Lights", and Adam saved her. In the Knockouts she sang "Bulletproof", getting saved again. Later, she sang "Hit the Road Jack" and was saved again. When America voted she was not saved, for Adam chose her. Then, once America voted again but 2 were sent home no matter where on the show, she was one of the final 3 to be eliminated, but America had saved her, letting her stay on the show. She was saved another 2 times. She then sang "Crazy" and, Cee Lo, the artist, liked it. That night she also sang "The Show" with a playful staging of cardboard cutouts. The next night she was eliminated with Amanda Brown , leaving Adam's team with no ere eliminated, America pulled what is now known as a "Double Adam." Or when two people are eliminated from Team Adam Levine on the same night. Another "double Adam" was pulled in Season 4 when Judith Hill and Sarah Simmons, who made the top 8. Team Adam was left with only one artist, Amber Carrington. After her elimination, she then signed to a label and released her debut EP, "Dollhouse EP". A year later, she released her first album, "Cry Baby". And is now on her way to success, the beautiful 22 year old is now living her dream of making music.